A safari itinerary that covers Kenya, Tanzania, and Zimbabwe is a fantastic idea, as these countries offer some of the most incredible wildlife and natural attractions in Africa. The total number of days you should consider for such a trip depends on how in-depth you want to explore each destination and your travel pace.
However, we  provide you with a sample itinerary and suggest a total of approximately 14 days to cover the highlights of these countries. You can adjust the duration based on your preferences and available time.
Safari Itinerary Breakdown
Kenya (5-7 days)
Nairobi (1-2 days): Start your trip in Nairobi, Kenya's capital. Visit the David Sheldrick Wildlife Trust, Giraffe Centre, and Nairobi National Park.
Maasai Mara National Reserve (2 days): Head to Maasai Mara for incredible wildlife viewing, especially during the Great Migration (July to October).
Lake Nakuru National Park (1 days): Explore the park's diverse birdlife and rhino population.
Kenya Beach: (2 days): Spend 2 days relaxing at the beach along the Kenyan coast either on the North Coast or South Coast
Tanzania (5-7 days):
Arusha (1-2 days): Begin in Arusha and visit attractions like the Arusha National Park or take a day trip to Mount Kilimanjaro.
Serengeti National Park (3-4 days): Go experience the vast plains and diverse wildlife that is found in Serengeti.
Ngorongoro Conservation Area (1-2 days): Visit the Ngorongoro Crater for incredible wildlife and scenery.
Zimbabwe (4-7 days):
Victoria Falls (2-3 days): Explore the breathtaking Victoria Falls, taking part in activities like a helicopter ride, bungee jumping, or a sunset cruise.
Hwange National Park (2-3 days): Enjoy wildlife safaris in Hwange, known for its diverse animal population.
Mana Pools National Park (2-3 days): If time allows, visit Mana Pools for a unique safari experience with walking safaris and canoeing.
Remember that this is just a suggested itinerary, and you can adjust the duration at each location based on your interests and available time.
Additionally, consider factors like travel time between destinations, accommodation, and the time of year you plan to travel, as wildlife sightings may vary seasonally
---
Contact Us
Use the form below to contact us regarding your trip ideas. We shall get back to you within 12 hours
Attractions Overview
Kenya
Below is more info on some of these attractions we have mentioned that you can visit in your tour.
The David Sheldrick Wildlife Trust
The David Sheldrick Wildlife Trust (DSWT) is a renowned conservation organization based in Nairobi, Kenya. Founded in 1977 by Dr. Dame Daphne Sheldrick in memory of her late husband, David Sheldrick, a naturalist and warden of Kenya's Tsavo National Park, the trust is dedicated to the rescue and rehabilitation of orphaned elephants and rhinos.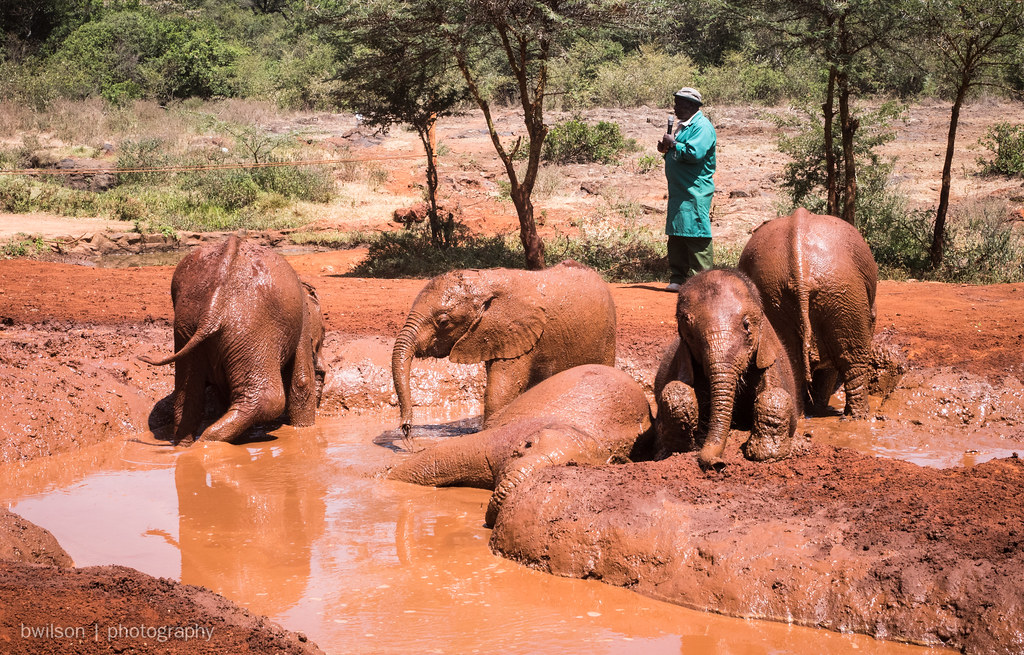 DSWT operates the Nairobi Elephant Nursery, where infant elephants and rhinos, often victims of poaching or habitat loss, are cared for by a team of dedicated keepers. The trust's pioneering "Keepers' Project" involves round-the-clock care, including feeding, medical attention, and socialization.
One of DSWT's primary goals is to reintegrate these rehabilitated animals back into the wild, ensuring their long-term survival. The trust also actively contributes to anti-poaching efforts, habitat protection, and community outreach programs, fostering a holistic approach to wildlife conservation.
Giraffe Centre in Nairobi
The Giraffe Centre in Nairobi, Kenya, is a popular conservation and education center dedicated to the preservation of the endangered Rothschild's giraffe. Founded in 1979 by the African Fund for Endangered Wildlife (AFEW), the center is known for its unique giraffe encounter experiences.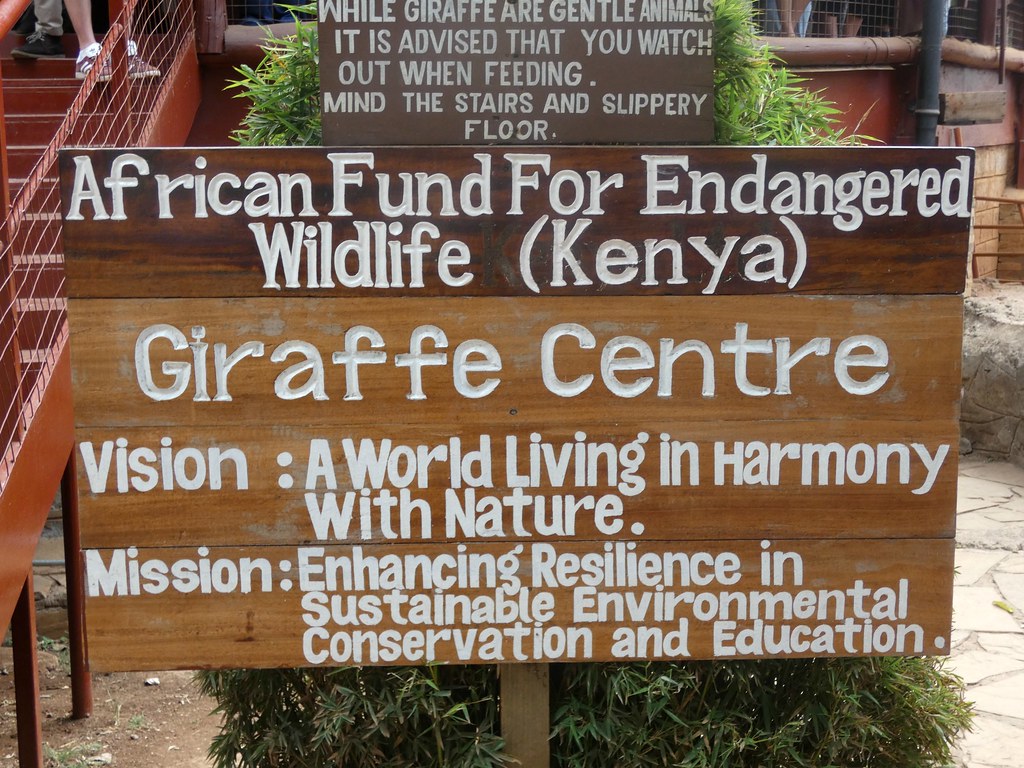 Key features:
Giraffe Interaction: Visitors can hand-feed and even kiss giraffes from a raised platform, creating an up-close and personal experience with these gentle giants.
Educational Programs: The center offers educational programs about giraffes, their conservation, and the importance of wildlife preservation. It's a great place for children and adults to learn about wildlife.
Nature Trails: Explore the lush nature trails around the center, where you can observe indigenous flora and fauna.
Conservation Efforts: The Giraffe Centre plays a crucial role in breeding and reintroducing Rothschild's giraffes into the wild. It also supports community-based conservation projects.
Gift Shop: There's a gift shop on-site where you can purchase souvenirs and support the center's conservation initiatives.
Scenic Setting: Located in a serene forested area, the Giraffe Centre offers a tranquil escape from Nairobi's bustling city life.
Nairobi National Park
Nairobi National Park, located just a short drive from Kenya's capital city, Nairobi, is a remarkable conservation area known for its unique blend of wildlife and urban proximity. Covering approximately 117 square kilometers (45 square miles), it's one of the few national parks in the world situated within a city's boundaries.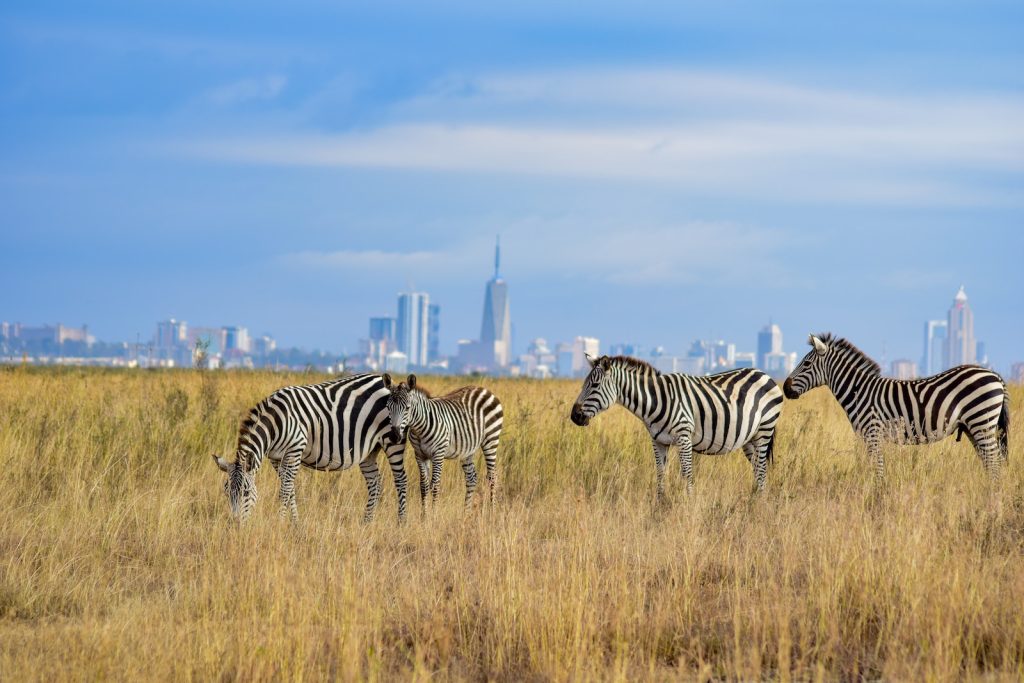 Key highlights:
Urban Wilderness: Nairobi National Park offers a striking contrast between untamed wilderness and the city's skyline, making it a popular destination for both wildlife enthusiasts and city visitors.
Diverse Wildlife: The park is home to a wide range of animals, including lions, leopards, cheetahs, giraffes, zebras, and numerous bird species. It's a prime spot for safari experiences.
Ivory Burning Site Monument: The park features a monument marking the site of a historic event – the burning of confiscated ivory, symbolizing Kenya's commitment to wildlife conservation.
David Sheldrick Wildlife Trust: Located nearby, visitors can extend their wildlife experience by visiting the elephant and rhino orphans at the David Sheldrick Wildlife Trust.
Picnic Areas and Trails: Nairobi National Park offers picnic spots and walking trails for visitors to enjoy the natural surroundings.
Photography: The park provides excellent opportunities for wildlife photography, with a backdrop of the Nairobi skyline.
Tanzania
Let us now mention some of the attractions in Tanzania that you can consider visiting in your multi country tour
Arusha National Park
Arusha National Park is a diverse and scenic gem located in northern Tanzania, near the city of Arusha. Covering approximately 552 square kilometers (212 square miles), it offers a range of unique attractions.
Key features:
Mount Meru: The park's centerpiece is Mount Meru, Tanzania's second-highest peak. Hiking to its summit is a popular activity for adventurous travelers.
Diverse Wildlife: Despite its relatively small size, the park boasts a variety of wildlife, including giraffes, zebras, buffaloes, and colobus monkeys. Birdwatchers will also find numerous avian species.
Momela Lakes: The park is dotted with a series of beautiful alkaline lakes, known for attracting waterbirds and wildlife. Canoeing is possible on some of the lakes.
Ngurdoto Crater: Often referred to as "Little Ngorongoro," this crater is a picturesque setting for game drives and offers a chance to spot animals.
Cultural Tours: Nearby villages offer cultural experiences and interactions with local tribes, such as the Meru and Maasai.
Serengeti National Park
Serengeti National Park, located in Tanzania, is one of Africa's most iconic and vast wilderness areas, covering approximately 14,750 square kilometers (5,700 square miles).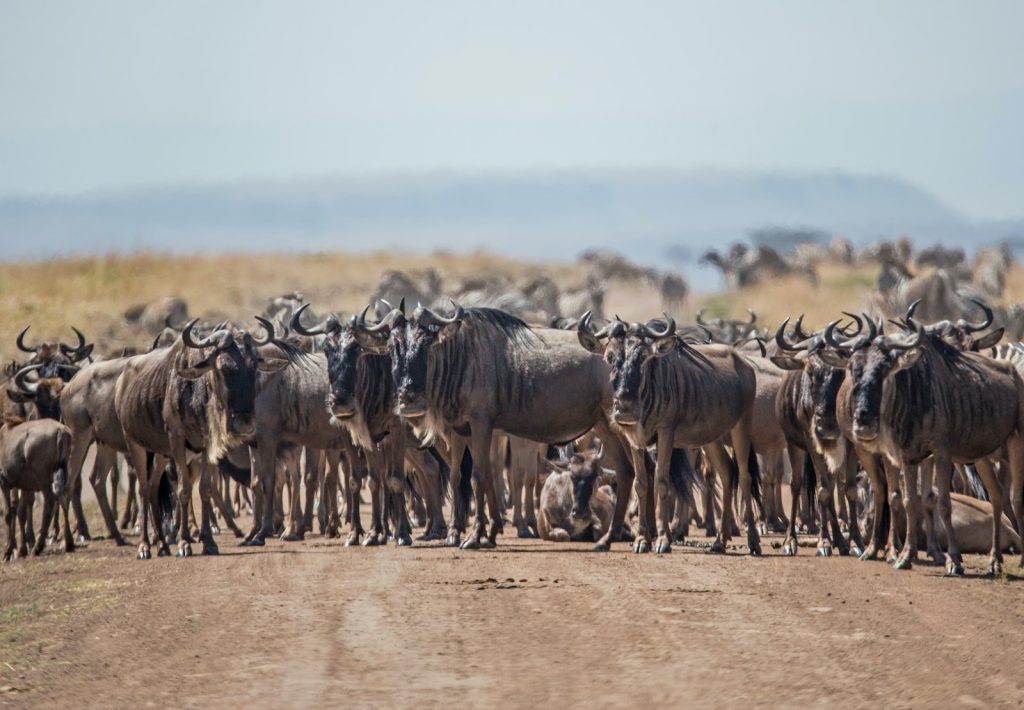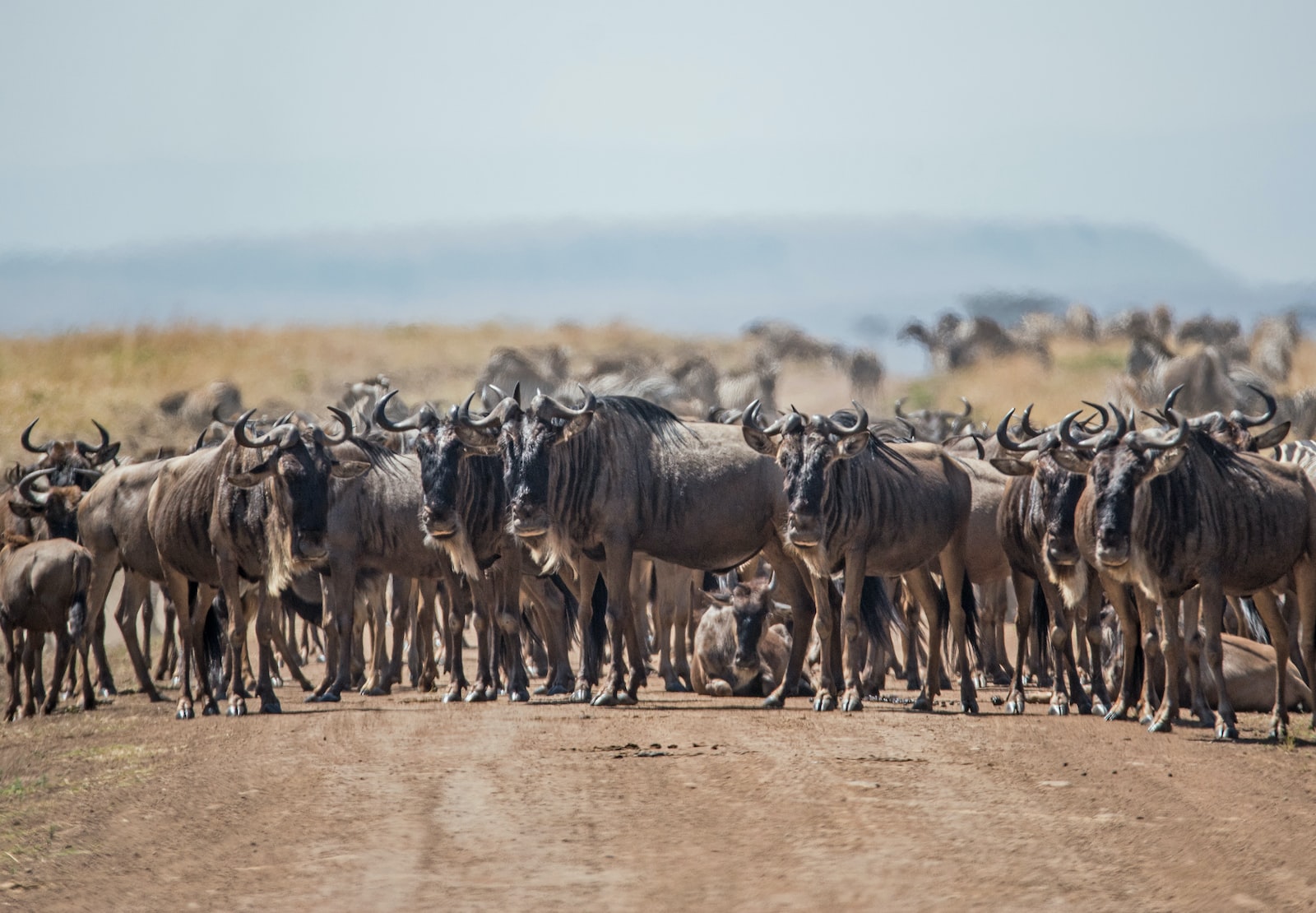 Key features:
Great Migration: Serengeti is famous for hosting the Great Migration, where millions of wildebeests, zebras, and other herbivores move in search of food and water, offering incredible wildlife spectacles.
Big Five: It's a prime location for spotting Africa's Big Five – lions, leopards, elephants, buffaloes, and rhinos.
Abundant Wildlife: The park teems with diverse wildlife, including cheetahs, hyenas, giraffes, and a rich variety of bird species.
Scenic Landscapes: Serengeti's vast plains, kopjes (rock formations), and the Grumeti River provide stunning backdrops for safaris and photography.
Balloon Safaris: Hot air balloon rides offer a unique perspective of the park from above.
Cultural Experiences: Nearby Maasai villages offer opportunities to learn about local traditions and culture.
Ngorongoro Conservation Area
The Ngorongoro Conservation Area, situated in Tanzania, is a UNESCO World Heritage Site known for its stunning landscapes and unique wildlife experiences.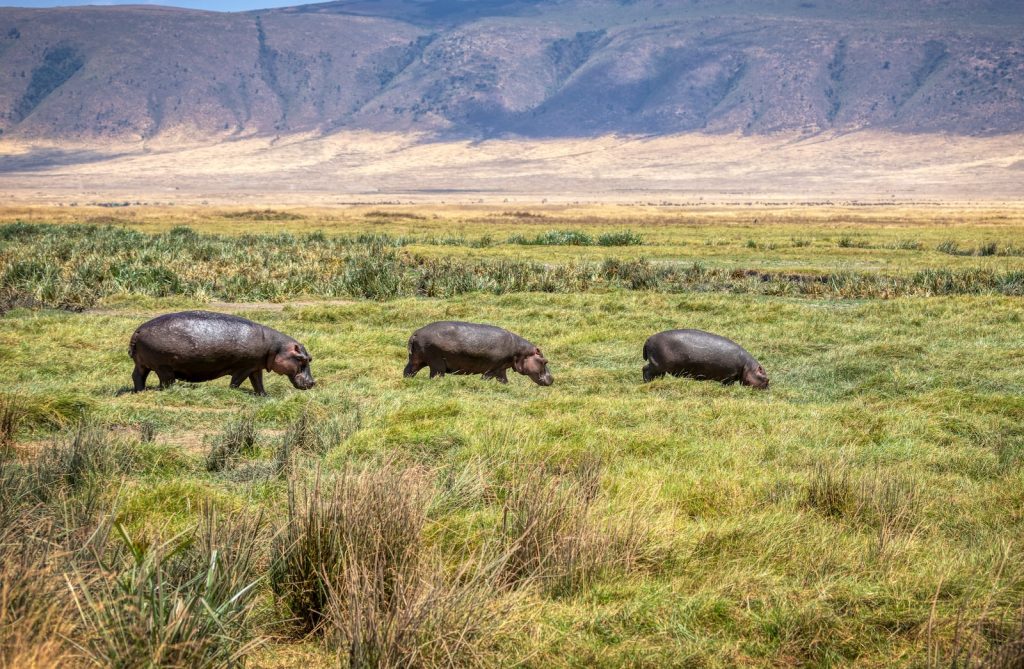 Key features:
Ngorongoro Crater: The centerpiece is a large volcanic caldera, the Ngorongoro Crater, which harbors a remarkably diverse range of wildlife, including the Big Five and a high density of predators.
Wildlife and Birdwatching: Beyond the crater, the conservation area offers varied habitats, supporting a rich variety of animal and bird species.
Cultural Significance: The Maasai people coexist with wildlife in the area, and cultural experiences, including visits to Maasai villages, provide insight into their traditional way of life.
Scenic Beauty: The dramatic landscapes, from the crater floor to the highlands, offer breathtaking views and excellent photographic opportunities.
Zimbabwe
Finally, we review the main attraction that is found in Zimbabwe, the Victoria Falls
Victoria Falls
Victoria Falls, one of the world's most awe-inspiring natural wonders, is located on the border of Zambia and Zimbabwe in southern Africa. Here's some information on the falls and the thrilling activities you can enjoy.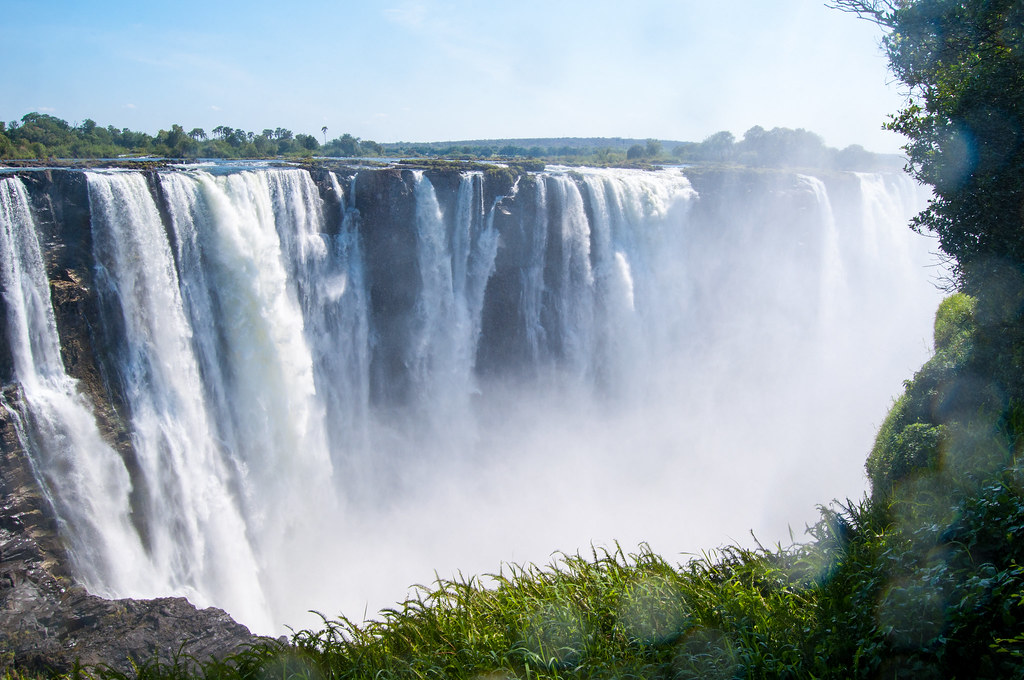 Victoria Falls:
Known locally as "Mosi-oa-Tunya" (the Smoke that Thunders), Victoria Falls is a UNESCO World Heritage Site and one of the Seven Natural Wonders of the World.
It's the largest waterfall on Earth, with a width of over 1,700 meters (5,600 feet) and a height of up to 108 meters (355 feet).
Viewing points in both Zambia (Livingstone) and Zimbabwe (Victoria Falls Town) offer stunning perspectives of the falls.
Helicopter Ride:
A helicopter ride over Victoria Falls is a must for a panoramic view of the falls and surrounding landscapes.
It provides a unique and exhilarating perspective of the falls' grandeur, rainbows, and the Batoka Gorge.
Flights typically last around 15-30 minutes, and experienced pilots provide informative commentary.
Bungee Jumping:
Victoria Falls Bridge, connecting Zambia and Zimbabwe, offers one of the world's most thrilling bungee jumping experiences.
The 111-meter (364-foot) freefall provides an adrenaline rush with the backdrop of the falls.
Safety measures and equipment are of high international standards.
Sunset Cruise:
A sunset cruise along the Zambezi River is a serene and romantic experience.
You can savor the tranquility of the river, spot wildlife along the banks, and enjoy a breathtaking African sunset.
Many cruises offer dinner, drinks, and entertainment onboard.
Visiting Victoria Falls allows you to not only witness a natural wonder but also engage in heart-pounding adventures and serene experiences. Whether you're seeking adventure or relaxation, this iconic destination offers something for every traveler.
---
Contact Us
Use the form below to contact us regarding your trip ideas. We shall get back to you within 12 hours
About Mara Gates
Below are reviews posted about us on Google Reviews by people who have used our services in the past
Based on 27 reviews


Luis Eduardo Torres R.
12:29 27 Dec 19
Unbelievable experience! From planning and booking with Agnes, up to our last day, everything was great!Our driver, Jackson, was AMAZING! He definitely a big factor in making our experience so

...

unique.

read more

rommel carlos
21:27 17 Oct 19
Agnes of Mara Gates always responds within 24 hours regarding any of my inquiries. She made the process very easy and always accommodated changes to our itinerary. Ken our driver/guide is very

...

knowledgeable about animals and their behavior. Will definitely book another Safari trip with Mara Gates.!!!

read more

Robert Schlag
21:43 14 Oct 19
Mara Gates provided us with an experience of a lifetime. The places that we visited were breathtakingly beautiful, the variety and number of animals and flora were spectacular. And our guide, Ken,

...

was so courteous, knowledgeable, and organized. The depth of his knowledge and explanations of animal behavior and the local environments was like traveling with a patient university professor of zoology, ornithology, and botany. Our lodging, food, and their support service staff were excellent. I give this company and its guide my highest recommendation. Thank you. Thank you. Thank you.

read more

Malou Carlos
20:46 10 Oct 19
We had a wonderful 9-day safari with Mara Gates. My husband found their website and came up with a custom-made itinerary, that Agnes gladly accommodated and made it even better. Communicating with

...

them was so easy because Agnes responds promptly. As soon as their office is open in Nairobi, they respond to our email inquiries quickly. We also met her at our hotel and we discussed the itinerary and she gave us pointers on what to expect during our trip. On the morning of the beginning of our safari, Ken our guide and driver promptly arrived and packed our van. Ken is a very intelligent, knowledgeable, wonderful person who gave us quick lessons on the different types of animals, birds, reptiles and also gave us lessons on their behavior. We would really like to go back and do another safari with Mara Gates, and most especially with Ken. Thank you so much for a wonderful trip!

read more

Rob Lovemore
09:55 07 Oct 19
our family booked a hot air balloon trip with Mara Gates. A very good driver collected us from our camp in a smart closed body Toyota Landcruiser. Our camp was nearly an hours drive from the balloon

...

site so it was a good commitment. Hot air ballooning is a must for visitors to the Mara. It's expensive but well worth it. We had a very competent pilot from Switzerland. The open air breakfast on the plains after we landed was also excellent. Then the same driver took us back home again. A great day out. Thanks Mara Gates.

read more

ABHIJIT MANNA
02:36 03 Sep 19
We booked our African Safari trip with Mara Gates Safaris in May, '19. This was one of the best trips we have made so far and thanks to Mara Gates Safaris, it became the most memorable one. We

...

received all the help we needed starting from the booking until the end of the trip. Special thanks to our guide Ken who enlightened us so much about the nature and behavior of the animals in the wild and took us to some of the best viewing spots over the different parks.

read more

A Google User
14:20 29 Aug 19
My husband and I thoroughly enjoyed our safari with Mara Gates. They were helpful from initial enquiries, through changes, to the final stop of getting us to the airport. The guide, hotels and meals

...

were all excellent. Our guide took great pains to ensure that we saw 'all' the animals and were able to take wonderful photos. We have great memories of this trip. At 84 and 72, we were comfortable all the way and felt well cared for. We would highly recommend this company and in fact we have to several friends. On another note, we had to cancel an earlier booking with this company because of an unexpected hospitalization. They were most kind and considerate and expeditiously handled refunds of our down-payment. Finally, from what I have seen, their prices are very good and certainly fall into the category of 'good value for the money'.

read more

Maurine Limo
12:12 10 Dec 18
I had a wonderful experience with Mara Gates Safaris. I wanted a 5 day trip to the coastal town and they got me a very good safari. They are highly organized, excellent communicators- never once did

...

I not get my queries answered and very accommodating. Everything went exactly as scheduled and discussed. Ms. Agnes is easy to work with and a professional in her line of duty. First time with Mara Gates and I will definitely be using them.

read more
Next Reviews