PrideInn Mara Camp is a luxurious safari camp nestled in the heart of the magnificent Masai Mara in Kenya. This exquisite camp offers a truly unique and unforgettable experience, allowing guests to immerse themselves in the stunning natural surroundings while indulging in the comforts of modern amenities.
Whether you are a wildlife enthusiast, a nature lover, or simply seeking a tranquil getaway, PrideInn Mara Camp is the perfect destination to rejuvenate your soul and create lasting memories.
PrideInn Mara Camp Prices
At PrideInn Mara Camp, you have the flexibility to choose from a variety of accommodation options and packages to suit your preferences and budget. The camp offers competitive pricing that ensures exceptional value for the luxury safari experience it provides.
The pricing structure at PrideInn Mara Camp varies depending on the type of accommodation you select.
The prices for the resort vary depending on the booking website and the time of the year. Expect to pay from $200 per night. Whether you opt for the luxurious tents or the charming cottages, you can expect a range of prices that cater to different budgets.
Planning A Safari to Masai Mara?
Use the form below and we shall give you a discounted quote for your trip staying at Prideinn Mara Camp
---
In addition to accommodation, PrideInn Mara Camp also offers various packages that include safari activities such as game drives, guided walks, and cultural visits. These packages provide a comprehensive experience and convenient planning, allowing you to make the most of your time in Masai Mara.
Furthermore, keep an eye out for any special offers or discounted rates that PrideInn Mara Camp may have throughout the year. These promotions can provide excellent opportunities to make your dream safari experience even more affordable and accessible.
No matter your budget, PrideInn Mara Camp aims to provide exceptional value for the breathtaking safari experience it offers in the Masai Mara. So, explore the pricing options, select the package that aligns with your preferences, and get ready to embark on an unforgettable journey surrounded by the wonders of African wildlife and nature.
PrideInn Mara Camp Contacts
Here are the contact details for PrideInn Mara Camp:
Telephone

: +254 709 532 100 / +254 709 532 000 / +254 709 374 000

Email

:

website@prideinn.co.ke
Address

: PrideInn Mara Camp, Sekenani, Talek, Narok, Kenya
PrideInn Mara Camp Accommodation
At PrideInn Mara Camp, you have a range of accommodation options to choose from, ensuring a comfortable and memorable stay. The camp offers both luxurious tents and cottages, each designed to provide guests with a sense of tranquility and privacy.
The tented accommodations at PrideInn Mara Camp are beautifully appointed and blend harmoniously with the natural surroundings. They offer a unique safari experience, allowing you to feel fully immersed in the wilderness while still enjoying modern comforts.
The tents feature spacious interiors with comfortable beds, en-suite bathrooms, and private verandas where you can relax and soak in the awe-inspiring views of the Mara.
If you prefer a more traditional yet equally luxurious setting, the cottages at PrideInn Mara Camp are the perfect choice. These charming cottages are elegantly furnished and offer a cozy sanctuary amidst the wild beauty of the Masai Mara.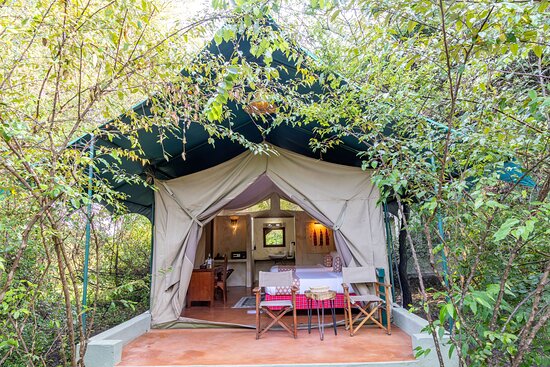 With amenities such as spacious bedrooms, en-suite bathrooms, and private terraces, the cottages provide a haven of comfort and relaxation.
Whichever accommodation option you choose, you can expect attention to detail, personalized service, and a warm, welcoming atmosphere that ensures a truly memorable and comfortable stay at PrideInn Mara Camp.
PrideInn Mara Camp Facilities & Cuisine
PrideInn Mara Camp goes above and beyond to provide guests with exceptional facilities and services, ensuring a truly indulgent and unforgettable experience.
To satisfy your taste buds, the camp features a delightful restaurant that serves a variety of mouthwatering dishes. From traditional Kenyan cuisine to international delights, there is something to please every palate. You can also enjoy al fresco dining with stunning views of the surrounding landscape, creating a truly unforgettable culinary experience.
After a day of exploring the wilderness, you can unwind and relax at the camp's bar, where you can sip on refreshing cocktails, fine wines, and a selection of beverages. The bar provides a cozy and intimate setting, perfect for sharing stories and experiences with fellow travelers.
For those seeking rejuvenation and pampering, the camp boasts a luxurious spa where you can indulge in a range of treatments and therapies. From soothing massages to rejuvenating facials, the spa offers a sanctuary of relaxation that will leave you feeling refreshed and revitalized.
To beat the African heat, PrideInn Mara Camp features a swimming pool where you can take a refreshing dip or simply laze by the poolside with a cool drink in hand. The pool offers a serene setting amidst the wilderness, allowing you to unwind and soak up the beauty of the surroundings.
With its exceptional facilities and services, PrideInn Mara Camp ensures that every aspect of your stay is taken care of, leaving you free to fully enjoy the wonders of the Masai Mara.