Giraffe Manor cost in Kenya vary depending on the time you want to visit. Giraffe Manor availability is also not guaranteed because of the limited number of rooms available.
We have with us Giraffe Manor Kenya price per night cost which we gladly share with you. If you are interested in Giraffe Manor booking, contact us through the form below and we will make the process easier for you.
About Giraffe Manor
The world famous Giraffe Manor is a boutique hotel that is set in twelves acres of private property that is within 140 acres of indigenous forest in the Langata suburb of Nairobi. Langata town is about from the city center
The story of Giraffe Manor starts way back in the early 70s, pricelsly in the year 1974 when a gentleman by the name of Jock Leslie-Melville, who was a grandson of a Scots earl with his Betty (the lady who started the African Fund for Endangered Wildlife (AFEW), bought the Manor.
They came up with this brilliant idea where they bought it 2 highly endangered baby Rothschild giraffe to the estate. The animals thrived and ever since have produced several further generations of giraffe.
Betty decided to open her Nairobi house, now called The Giraffe Manor, to visitors after the death of her husband Jocky.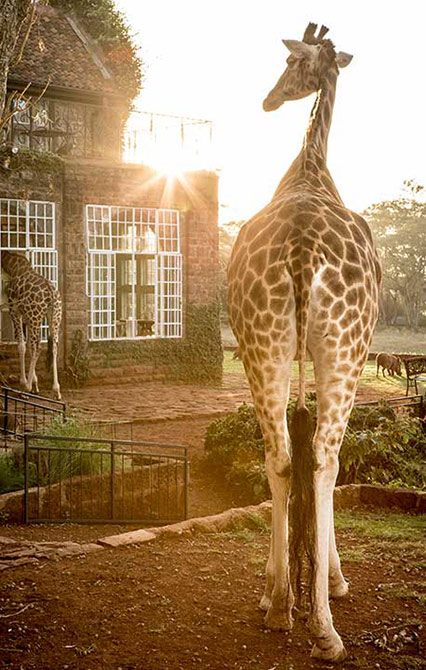 The Giraffe Manor is the ONLY PLACE in the world where its guests have the chance to feed and take photographs with the giraffes over their breakfast table, at the front door or even from the bedroom window as a guest.
Giraffe Manor Accommodation
At Giraffe Manor there are
2 Superior Suites (Karen Blixen & Finch Hatton)
8 Superior Rooms (Betty, Daisy, Jock, Helen, Kelly,Arlene, Edd & Salma) and
2 Standard Rooms (Lynn & Marlon). I
An the Main Manor there is:
1 Superior Suite (Karen Blixen)
3 Superior Rooms (Betty, Jock & Daisy)
2 Standard Rooms (Lynn & Marlon).
In the Garden Manor there is
1 Superior Suite (Finch Hatton)
5 Superior Rooms (Helen, Kelly, Arlene, Edd & Salma).
The Garden Manor can only be booked when combining with another one of Manor properties.
MORE ABOUT THE ROOMS


Giraffe Manor Cost Per Night
How much does it cost to stay at Giraffe Manor? Below are the Giraffe Manor Kenya price when you book with us:-
STANDARD ROOM
US$ 580 Per Person Sharing
US$ 374 Per Child Sharing
US$ 785 Single Room
SUPERIOR ROOM
US$ 744 Per Person Sharing
US$ 515 Per Child Sharing
US$ 1062 Single Room
SUPERIOR SUITE
US$ 2525 Minimum Room Rate (based on up to 2 adults & 2 children sharing)
US$ 328 Additional 3rd Child Rate
Notes:
Children are ages 3 to 11 years inclusive. 12 years and over is an adult. 2 years and under is an infant. Infants stay FOC. There is only a child sharing rate in the Standard and Superior Rooms at Giraffe Manor – this rate is the same whether they share the room in one of the beds or whether they are in an extra bed. Extra beds do not always fit. If a child is to be allocated to a single room, the rate charged is the FULL single room rate.

GIRAFFE MANOR RATES EXCLUDE

Champagne, luxury spirits, selected wines, tips, health insurance, massage treatments and personal effects.

GIRAFFE MANOR RATES INCLUDE

Airport transfers, transportation around the Karen & Langata area (within the check-in and check-out times), all meals, house wines, house soft drinks, house beers, house spirits, laundry, wireless internet access, entrance to the A FEW Giraffe Centre, Orchid House dining, boules, croquet and VAT.

CHECK IN

– 11h00 onwards; 

CHECK OUT

– By 10h00 on the day of departure, unless another room is booked & paid for as per the rates above.
PLEASE NOTE THAT CHECK IN/CHECK OUT TIMES HAVE TO BE STRICTLY ADHERED TO DUE TO THE UNIQUE NATURE OF THE PROPERTY. IT DOES NOT HAVE A RECEPTION AREA OR RESTAURANT FOR GUESTS TO WAIT IN. IT IS STILL VERY MUCH LIKE A FAMILY HOME.
When To Go?
Anytime of the year is ok EXCEPT in May when its closed for maintainance. I wrote an article in the past on the best time to travel to Kenya.
FAQ's
Enjoy full board accommodation which includes meals & many of their drinks (house wines, spirits, beers and soft drinks, excluding champagne and specially imported wines and spirits).
Complimentary chauffeured vehicles are available for sightseeing, however guests may need to share vehicles depending on demand and availability.
If you wish to host a wedding at Giraffe Manor the property has to be booked on an exclusive use basis for 3 consecutive nights.
There is NO swimming pool at Giraffe Manor
Due to high occupies and limited capacity Giraffe Manor do not offer external meals (breakfast, lunch, tea and dinner) to non-staying guests.
Things To Do
Feed the giraffes during your stay at G

iraffe Manor Nairobi Kenya

Take a guided walk at the grounds
Enjoy tea at the terraces as the sun sets
Visit the famous Matbronze Art Gallery and Foundry, Kazuri Beads which sells locally-made jewellery
Visit the Marula Studios innovative crafts complex
Giraffe Manor Breakfast Prices?
The breakfast prices are covered in the rates that we have given you above.
Interested in Giraffe Manor Booking?
Use the form below to contact us and Agnes will get back to you ASAP and answer your questions related to the Giraffe Manor Kenya prices.
Hope the article has answered your question regarding on how much to stay at Giraffe Manor.