Most people desire to travel and relax to unwind from the pressures of daily life. The unfortunate thing is that there is nowhere in this world where one can say that its 100% safe. We as travelers need to excise wisdom especially when we travel to foreign countries or even when we walk down the street in our own country.
Traveling to destinations that one is not familiar with can be quite exciting. In our travel plans, we need to have accessories and equipment that will ensure that our personal effects are safe with us.
In this blog post we are going to look at some of the best RFID blocking bags, purses,backpacks and wallets that will help protect you from credit card theft and let you enjoy your vacation or as commute in public spaces.
If you don't have time to read this whole article, (its over 1500 words..lol) below are our most popular RFID blocking travel accessories. Each links redirects you to Amazon.com where you can see current prices)
RFID Blocking Crossbody Bags/Purses –  Travelon Anti-Theft Heritage Small Crossbody Cross Body Bag
Best RFID Blocking Backpack – The Pacsafe Metrosafe LS450 Anti-Theft 25L Backpack
Best RFID Blocking Wallet – For women its the Itslife Women's RFID Blocking Large Capacity Genuine Leather Clutch Wallet while for the men its the Kinzd RFID Front Pocket Minimalist Wallet
Intro
RFID blocking products are designed to block scammers and thieves from stealing your credit card/debit card information through wireless technology when they are close you. RFID scanning technology makes it convenient for thieves to walk near you & steal your information. I've even read of cases where card information theft is executed with nothing more than a smartphone and a free app.
1. Best RFID Blocking Crossbody Bags/Purses
1.1 Travelon Anti-Theft Heritage Small Crossbody Cross Body Bag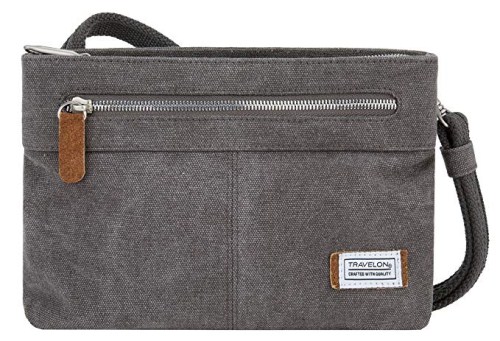 This is a very very popular travel bag that is also known as the anti-theft heritage canvas purse. The measurement of this bag is about 10 inches wide 8 inches high and about by 2 inches deep. It also has an adjustable strap that will go from 13 to 25 inches. Its sold in three different colors ie; Pewter, Indigo and wine.
More on the features of this cross body bag
– Made from cotton canvas & suede
– This is an imported bag
– It has a polyester lining
– Comes with a locking main compartment that has an RFID blocking pocket to keep your credit card safe. It also have two open top wall pockets and tethered key clip with LED Light inside
– Has a front zip pocket & rear slash pocket with snap close
– This crossbody bag is designed to be slash-resistant and its adjustable shoulder strap can be secured to a stationary object
– The strap drop length is about 14 to 26 inch. The strap length 52.5 inch
– Exterior Dimensions(inches):9.75 x 7.75 x 2.
What are some of the positive things about this bag that makes it a popular choice with buyers?
First, this bag allows you to lock the outside zipper. Tis is a key feature to have especially if you find yourself in crowded spaces such a bus. It will stop or frustrate a pickpocket who tries to open it and steal from you. The other thing is that the material that is used to make this bag looks and feels great all the way down to strap and zipper tags.
There is also an inbuilt LED light within the pockets of the bag (which is detachable) which comes in handy when you want to search for something in the dark and need the flashlight to help you see well.
The inside linings of the bag contain a mesh of stainless steel wires that will frustrate and stop a thief who would try to slash the bag to spill its contents. The straps also contain the same wires that will prevent thieves from slashing the bag straps.
Another excellent security feature of the purse is that at the end of the strap there is a little swivel locking attachment that allow you to detach the strap from the bag and then weave the strap around a chair in a restaurant, a shopping cart or the seat arm in a bus then attach the end back to the bag. This stops a potential thief from grabbing your bag and running away with it.
Its adjustable straps allow you to adjust the strap length so that you can wear it crossbody or over the shoulder. at 13 to 25 okay and it's ultra lightweight it weighs only 15 ounces.
This travel purse is a very good choice for travelers. Its pockets are optimal in size its security features allow you to protect your credit cards from RFID scammers, stop potential thieves from spilling the contents of your bag through slashing or grabbing.
FAQs
Is the bag TSA approved? Yes it is
Does the bag fit an iPhone X? Yes is does
Is the RFID blocking across the whole bag or? No, its just on one of the interior zippered pocket.
Below is a short 7 minute video giving more details about this bag.

To order it, visit Amazon by clicking here to see the current prices of their sales page
2. Best RFID Blocking Backpack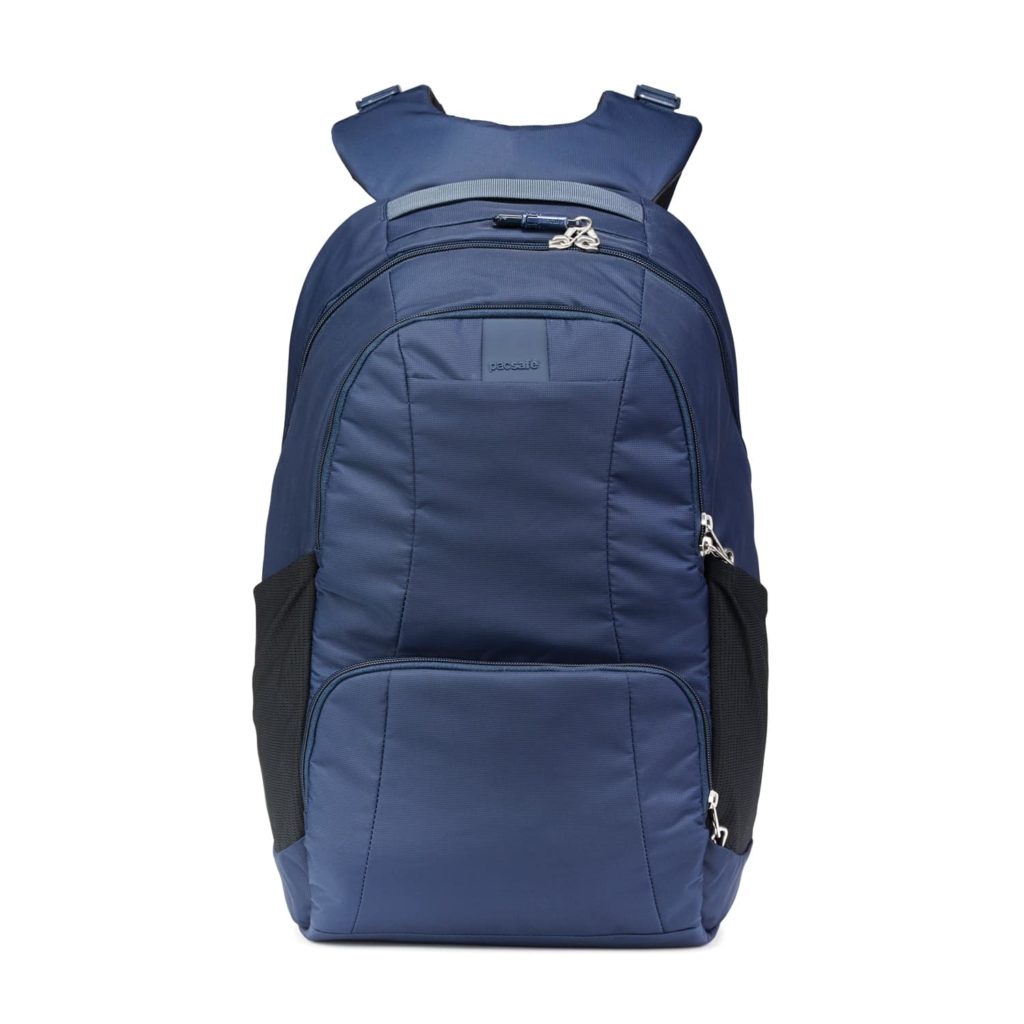 The Pacsafe Metrosafe LS450 Anti-Theft 25L Backpack is a popular backpack that is made out of a really sturdy nylon material designed to keep your personal belongings well protected.
The backpack has really comfortable shoulder straps that have good padding on them to keep your shoulders feeling great while you carry your gear. The bag also has little pockets on the side which are nice and stretchy to keep stuff such as water bottles
There is also great storage at the front of the bag with pockets found at the bottom and the other on top. The top pocket has some good padding in there where you can keep your delicate items such as  mobile phones and sunglasses.
There is a lockable closure on the very top of the backpack that you have to unclip in order to open it up reveling lots of space to carry your stuff. The Lockabout Security Clip and Smart Zipper Security provide multiple layers of protection and lockdown points for zippers to help protect against pickpockets.
There is tons of padding on the inside too to keep your stuff like laptops or tablets protected
Other features of this backpack
Anti-theft features to keep your credit cards safe from RFID scammers; ideal for adventures abroad or your daily commute
The bag has a lightweight, hidden exomesh slash guard stainless steel wire mesh embedded within the fabric to stop slash-and-run thieves.
Dimensions:(H x W x D): 18.9 x 11.8 x 6.7 in / 48 x 30 x 17 cm
Backpack strap length is 26.77 inches (minimum) and 36.22 inches (maximum)
Pockets: 1 interior slip, 1 interior zip, 3 exterior
The 2 front pockets designed to hold stuff like cards, your phone and your passport. There is also an iPad/15-inch laptop compatible sleeve within the bag
The shoulder straps are adjustable.
The backpack can hold a volume of 25-liters & it weighs just about 1.75 pounds.
Below is a short video explaining more about this backpack..

Visit Amazon here to see the current prices of this page
3. Best RFID Blocking Wallet (Men/Women)
The most popular RFID blocking wallet for men on the world's biggest online market place is the Kinzd RFID Front Pocket Minimalist Wallet. More on this below
3.1 Kinzd Slim Wallet RFID Front Pocket Minimalist Wallet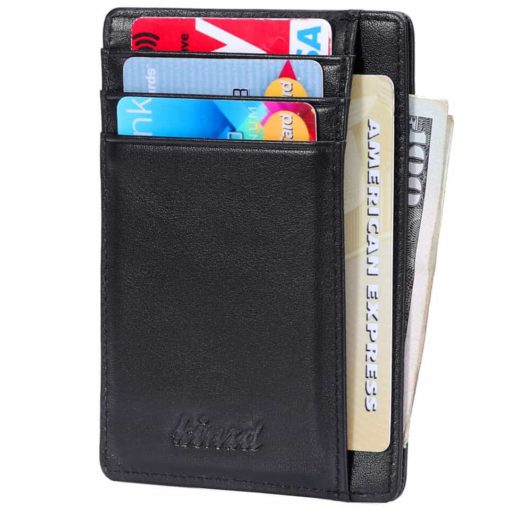 This is the best selling wallet on Amazon that has the RFID blocking features. It's described as being a front pocket wallet of course it would fit in your back pocket but it's slim design makes it easy to fit into your front pocket More about it below:-
Made of 100% Napa genuine leather.  Its softer, more breathable & glossier. 

Napa leather

 is made of small goats or sheep skin which is soft and long lasting. Napa leather is also used in premium class leather goods such as premium furniture, accessories and car interiors.
This leather wallet has six card slots, one ID window slot & 1 money/receipt slot
Comes with RFID protection allowing you to keep your credit cards safe from credit card scammers and electronic pick pocketers
Minimal & Compact – Its slim design makes it easy for you to put it into your back or front pocket..the clear finger glide for the ID window makes it fast & easy to take your ID card or driver license in and out
For those who want a thin wallet to hold their money or cards, this is the wallet for you
When you compare it with other big and bulky wallet, this one does not bulge your front pocket with the added advantage of feeling comfortable in your pocket even if you sit down for a long time or drive with it..
Once you get your hands on one of these wallets, you will notice from its features that the drivers license is placed behind a piece of clear plastic. It might be hard to move but you can clearly see it.
The credit cards can be placed in the slots behind the drivers licence which is easy to remove and insert. In order to insert cash, you will have to fold the bills in order for them to fit in. If you use cash everyday, probably you would need a thicker wallet but if your primary method to purchase goods is through credit cards, then this is the wallet for you.
To see current prices at Amazon, please visit the page here
3.2 Itslife Women's RFID Blocking Large Capacity Genuine Leather Clutch Wallet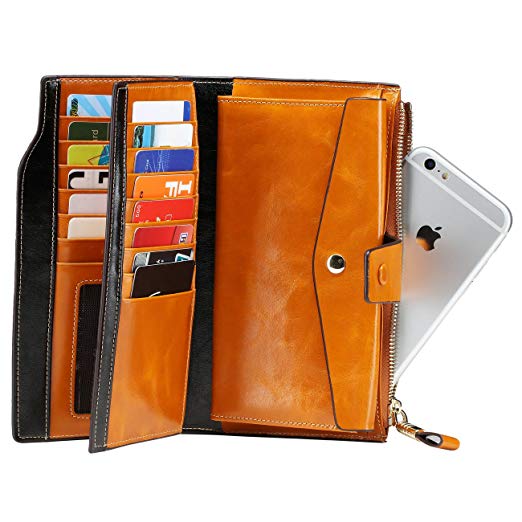 This is a very popular women's wallet with over 2000 reviews on the internet.
Colors: 33 different types of colors for these wallets.
This women's wallet is designed with advanced & prime grained leather
Has a snap closure
Has RFID blocking technology to keep your credit card safe from card scammers. Wallet has been designed using a unique military grade shielding technology & proprietary blocking material compared to other wallets.
Has 21 card slots that includes one ID window, three full-length bill compartments, one snap cash pocket & 1 zipper phone case.
The wallet allows you to keep your receipts, credit cards, cash, notes, checkbook & your smart phone well organized. Can fit an iPhone X 6S/7/8 Plus
Wallet dimensions: 7.56″L x 4.13″W x 1.57″H
Comes with a 1 year money back guarantee.
Its multi-storey fold is designed to keep your things organized well
Its scratch resistant and durable with classic and vintage design
To see current prices at Amazon, please visit their sales page here
[This website Maragates.com is a participant in the Amazon Services LLC Associates Program, an affiliate advertising program designed to provide a means for sites to earn advertising fees by advertising and linking to Amazon.com]