What are some of the Kenya safari package prices? Well, it depends on certain factors but here is a quick answer to the average cost of safari in Kenya.
For the popular 3 days Masai Mara safari, it will cost you about $350.  This price is for sharing your trip with other travelers in the same van.
A 4 days safari that includes Masai Mara and Lake Nakuru will cost you $450. This is for a trip that you share with other travelers in the same van.
For private safaris, where you have the safari van to yourself, it gets more "complicated".
There are a number of factors that determine how much your overall safari will cost as you travel to Kenya in a private safari.
The beauty of a Kenyan safari is that it the price can be as little or as much as you'd like: there are so many alternatives from budget-friendly to luxurious options that suit all kinds of travelers.
---
Interested in a Kenya Safari Package?
Get Quote
Click "Get Safari Quote" below to contact us and we will provide you a competitively priced Kenya safari package based on your budget and preferences
---
Kenya Safari Packages Prices: Factor To Consider
How much does a safari cost? This is a typical question that runs through the minds of many as they plan and research on different Kenya safari packages. The costs that will determine your safari trips in Kenya are:
The type of accommodation you need
Mode of transport
Extra activities that you'll undertake
Season of travel
No of nights on safari
Total number of persons traveling
1. Accommodation
Every tourist destination in Kenya has accommodation options to cater for various budgets of different type of clientele that will influence the cost of safari in Kenya.
For example, if staying within Nairobi, you will find plenty of guesthouses at affordable prices; a good quality guest house can cost between $12 and $20 for a basic room.
You also have the option of staying at mid-range to well know international hotels in Nairobi that can cost upto $300 per night. National parks and game reserves also accommodate a range of budgets.
Consider this issues as you research on Kenya safari packages prices.
You have the option of pitching your own tent, or opt for eco-camps or lodges that can cost as little as $10 a night (for camps) or you can go all out and stay at superb lodges and luxurious camps with all amenities, including free internet access for up to $500 a night.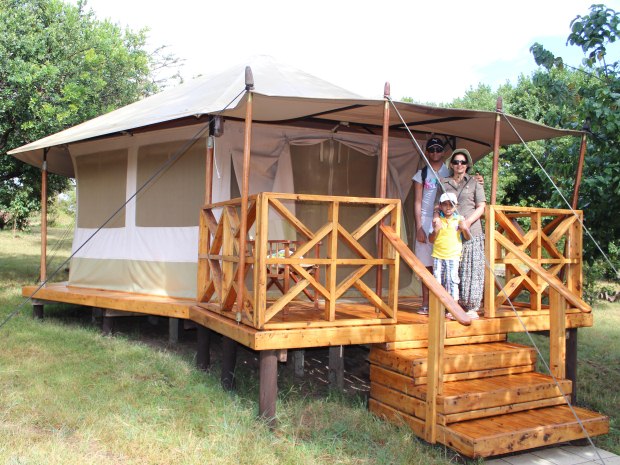 Below is a sample list of budget camps for those looking for affordable Kenya safari packages.
Enchoro Wildlife camp
Ol Moran tented camp
Mara Manyatta camp
Below is a sample list of mid range camps for those looking for affordable Kenya safari packages.
Mara Ngeche camp
Mara Siria camp
Below is a list of luxurious camps
Governor's camp
Mara Bushtop camp
Mahali Muzuri camp
Below is a list of mid range lodges
Mara Serena lodge
Mara Sopa lodge
2. Mode of Transport
While on safari in Kenya, many prefer traveling by road as this is the ideal means of seeing the beauty of the country.
Some people even prefer to take public transportation such as buses to reach the game reserves to not only save on cash but to interact with the locals and see/experience their way of life.
The downside of this is that though you can save money, you are at the mercy of the driver and cant dictate how far or slow they can move because they are carrying other passengers.
Another disadvantage of public transport is that the vehicle can only take you to the gates of the national parks. You still need to hire a tour van to take you round the game park to enable you see the animals.

The common way to go on safari is to use a private tour van. This is more safer because the tour company (such as ours) can guarantee your safety, travel at your pace and allow you to enjoy personal comfort, something that is rare when using public means.
Apart from tour vans, you can travel using a 4×4 safari landcruiser. This is more comfy than a tour van but its more expensive. We can offer you any of the 2 options depending on your budget.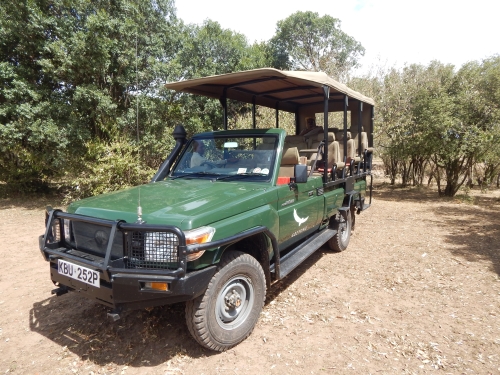 Traveling by air is very fast but obviously more expensive. Flights to Masai Mara start from Wilson Airport in Langata, Nairobi. Companies that offer flight services to Masai Mara are Air Kenya, Safarilink, Fly Sax among others.
Based on the above information, you can see that the type of transport that you use will impact on how much a safari to Kenya will cost you.
3. Extra Activities To Undertake
Apart from doing a normal safari, clients can choose to go for an optional balloon ride over the Masai Mara. See the balloon ride prices here. This is a beautiful adventure ride to take but it comes at an added cost.
Other options can include visiting a Masai village to learn the way of life of the Maasai. You are expected to "pay" them something as a token of appreciation
Other activities that will affect your budget would be visiting other attractions or places that are not in the game reserves/national parks such as
Daphne  Sheldrick Wildlife Trust located at Langata on the outskirts of Nairobi city where you get to interact and feed orphaned elephant
Interact and feed giraffe at the Giraffe Center, located in Langata
Visit Bomas of Kenya, a tourist village in Langata, Nairobi. Bomas displays traditional villages belonging to the several Kenyan tribes
Shopping at Kenya's prestigious malls including West Gate,  Village Market, 2 Rivers Mall etc
Nairobi National Museum – The  Nairobi National Museum  is located about 5 minutes from the city center. Its aim is to interpret Kenya's rich heritage and offers a one stop for visitors to sample the country's rich heritage both for education and leisure.
In addition to the museum, visitors are treated to a variety of shopping and dining facilities, as well as botanical gardens that offer a serene environment.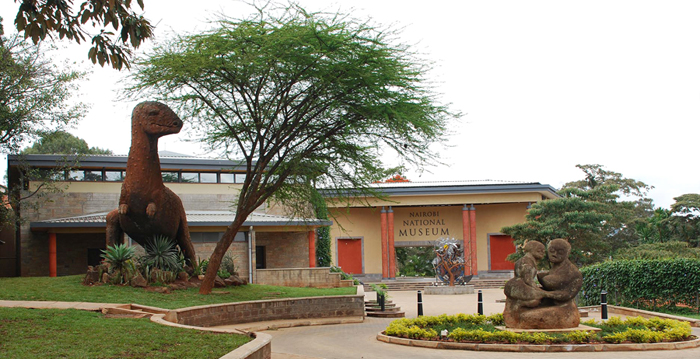 The museum is open on all 356 days throughout the year from 0830hrs -17300hrs. Nairobi National Museum is located at the Museum Hill
Don't forget to set aside some money for purchasing curios and trinkets during your holiday, and bargain a little to get fair prices. In addition, if you would like to hike, surf or raft, remember to budget for this.
Museums and historical sites in Kenya have entry fees that range from $5 to $40, depending on the place you are visiting.
4. Season of Travel
Travel seasons also determine the cost of your accommodation in Kenya. Peak seasons include December to February, and July to October during the wildebeest migration.
During these times, there are a lot of tourists coming into Kenya and accommodation (in game parks and reserve) is expensive because of the demand.
If you want to save money, opt for off-peak months when hotels/camps/lodges have amazing discounts plus the sites and attractions are less crowded.
5. No of Nights On Your Kenya Safari
This is obvious..the more nights you spend on safari in Kenya the more it will cost you.
If you are visiting Masai Mara only, a maximum number of 3 nights in Kenya is enough: one in Nairobi and two in Masai Mara [3 days Masai Mara safari]. If your visit combines Masai Mara and other place such as Lake Nakuru or Amboseli, 4 to 5 nights would be sufficient.
6. No of Persons Traveling
If you are traveling with friends, each person contributes for the trip which in turn reduces the transportation cost (when using a tour van) making the overall cost per person cheaper.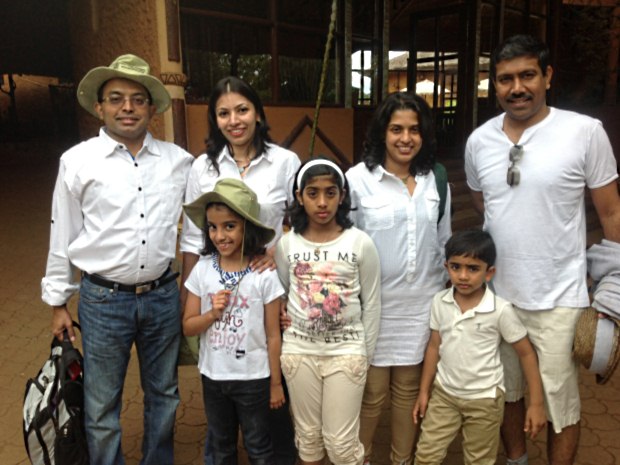 If you are alone and want to save on money, its better to join other travelers in the same van and share the cost of transport. This type of tour is called a "joining others" safari, something that we can arrange for you too.
If you are traveling with children, those over 12 years will pay the full adult rate. The parks also charge a lesser fee for children under the age of 12 years.
So we see that the more adults are traveling in your group, the cheaper it becomes because you get to share the transportation cost (if you are using a safari van)
In Conclusion
With these tips in mind, you can customize your Kenyan safari to meet your cost, whether you are traveling alone or with your spouse, with the whole family or as a group of friends.
---
Interested in a Kenya Safari Package?
Get Quote
Click "Get Safari Quote" below to contact us and we will provide you a competitively priced Kenya safari package based on your budget and preferences
---