Diani Beach, with its white sandy beaches, is located just 30 kilometers from Mombasa. It is found in Kwale County, close to the town of Ukunda.
The beach itself is 10 kilometers long, providing visitors with a variety of leisure activities, hotels, and restaurants to choose from. One of the best places where you can get fabulous hotels to stay in your all inclusive Mombasa holiday beach trip.
In this blog post, I will be reviewing information related to distances, flights and tourists attractions between Diani and Nairobi.
1. Distance Between Nairobi to Diani by Road
The drive from Nairobi to Diani covers a distance of just below 520 kilometers, including a ferry ride across the Likoni channel.
2. Nairobi to Diani Flights
Below is a list of the airlines that fly to Diani and their approximate flying time and costs. Note that flight costs vary depending on the day on which you choose to fly.
On a side note, get a discounted quote for your Kenya holiday trip by clicking on the + sign below to display a form that you can fill in and send us your details.

3. Diani Tourist Attractions
While traveling from Nairobi to Diani, below are top tourist attractions in Diani that you can visit while on holiday there.
3.1 Diani Beach
Characterized by clean water and spotless, white, sandy beaches, Diani Beach offers a variety of fun-filled activities for its visitors. Among these include whale shark adventure expeditions, snorkeling, skydiving, diving, paddle surfing, swimming, and water safaris.
3.2 Colobus Conservation
A visit to the Colobus Conservation premises located just 30 kilometers south of the Likoni Ferry must be part of your itinerary while in Diani.
You will get to see how this conservation organization protects, preserves and conserves the Angolan Colobus Monkey, as well as get a guided tour down the nature trail. Read my review on the best time to travel to Kenya on holiday
3.3 Kaya Kinondo Sacred Forest
The Kaya Kinondo Sacred Forest is one of the many sacred forests that were originally home to the Digo people, and the only that is open to the public. Here you will enjoy a guided nature walk as you savor the culture and history of the Digo people.
3.4 Diani Beach Art Gallery
This gallery, the first of its kind at the Kenyan coast, brings together a collection of artistic works from all over Africa. Prepare yourself for breathtaking displays of contemporary African art from Kenya and beyond.
3.5 Diani Beach Shopping Centre
The Diani Beach Shopping Centre provides you with a place to shop for essentials and go to the bank, as well as pop into various shops selling African merchandise, including jewelry, artifacts, and fabrics.
4. Diani Hotels and Resorts
This beautiful holiday destination has several hotels and resorts where you can get great food, accommodation, and leisure activities. Check out a few of them as listed below.
4.1 The Sands at Chale Island
The Sands, with its beautiful white beaches surrounded by coral reefs and tidal saltwater lake, is the only individual resort island on the Kenyan coast.
This resort, located 600 meters off the mainland, and 10 kilometers South of Diani, lies within 15 acres of indigenous forest.
On your visit, you will thoroughly enjoy watersports (snorkeling, kayaking, glass bottom boat rides, game fishing), excursions to Gazi (a local fishing village), shopping in the two boutiques, and spoiling yourself in the spa.
4.2 Jacaranda Indian Beach Resort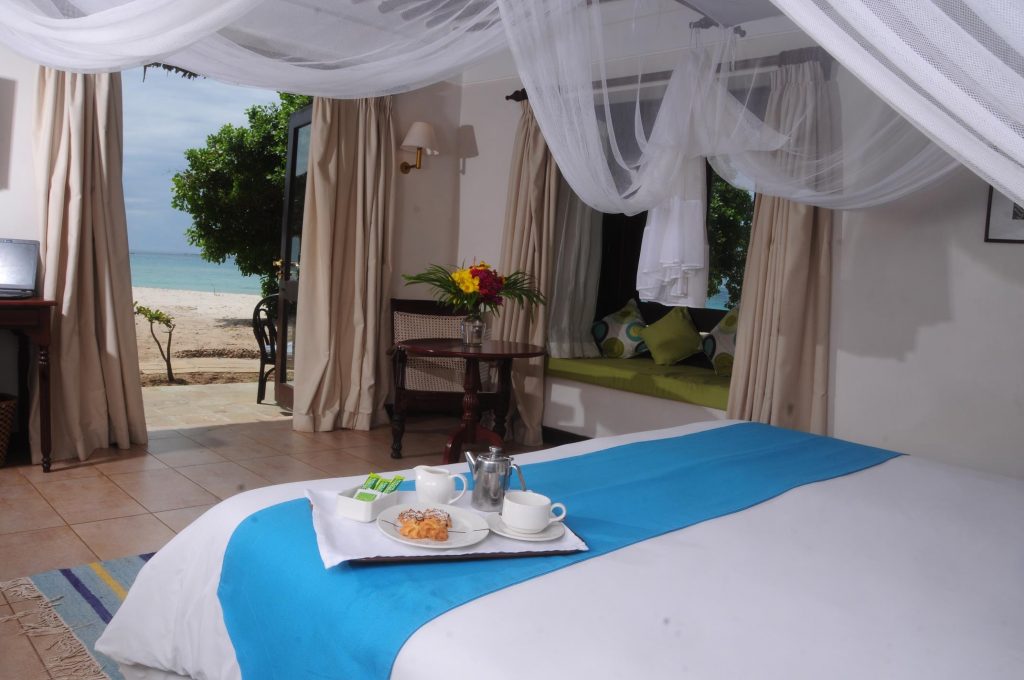 This lovely, Swahili-style resort is located just 9 kilometers from the Ukunda Airstrip. Here you will enjoy the lush gardens filled with indigenous trees and bushes, 3 Jacuzzi-style plunge pools, and a lovely view of the beachfront.
Activities available at this resort include swimming, surfing, watersports, tennis, beach volleyball, and bird watching.
4.3 Diani Reef Beach Resort and Spa
Diani Reef Beach Resort and Spa is an award-winning resort located on Diani Beach Road in Ukunda. It is described as a magical paradise ideal for beach holidays, weddings and social events.
There are a variety of fun activities for all ages available, including swimming, gym, snooker, and shopping!
There is also a mini movie theater that screens at least two children's movies daily, and a kids club (Coco Jumbo Kids Club) with table tennis, a pool table, and play stations.
4. Nairobi Attractions
While in Nairobi and have the time to go for sightseeing, below are some must visit attractions for you to consider.
4.1 Nairobi National Park
The Nairobi National Park is the only protected area in the world that is home to a variety of wild animals just ten kilometers from a capital city. Inside this park, visitors enjoy game drives, walking trails, picnicking at designated picnic sites, and camping at any of the three campsites.
4.2 Giraffe Centre
The Giraffe Centre, located 17 kilometers from the Nairobi City Centre, in the Karen suburbs, plays host to several Rothschild Giraffes. At this conservation center, you will get lots of information on the Rothschild Giraffe, as well as meet the giraffes face to face on the elevated feeding platform.
4.3 Nairobi National Museum
History lovers will enjoy a visit to the Nairobi National Museum. Here, you will see Kenya's history and culture displayed chronologically, and beautiful displays of Kenyan contemporary art and nature. At the Museum's premises on Museum Hill, there is also a Snake Park, Botanical Garden, and nature trail.
4.5 Masai Market
If you want to get authentic African hand-crafted jewelry, art, fabrics, clothing and curios, you must visit the Masai Market. This market operates at various open-air locations and malls around Nairobi on different days of the week.
4.5 Daphne Sheldrick Trust
The Daphne Sheldrick Trust hosts elephant calves orphaned by poaching and rhinos at its premises at the edge of the Nairobi National Park. If you make time for a morning visit (11 am to 12 pm), you will be just in time to see the calves getting a bath and some exercise.
Flights from Nairobi to Diani make the distance between the two destinations so much shorter. This means that you can visit Nairobi attractions before you travel to Diani, or after you come from Diani as you wait to connect to another destination. Hope the above information was useful to you as you plan your Kenya Safari.
On a side note, get a discounted quote for your Kenya holiday trip by clicking on the + sign below to display a form that you can fill in and send us your details.