Can a foreigner get a Kenyan visa on arrival at the JKIA airport in Nairobi Kenya? YES YOU CAN. Also note that if you acquire a visa at a Kenyan embassy or High Commission before you travel, it will also be honored.
However citizens of the countries listed below CANNOT obtain their visas online OR on arrival but must apply in advance through a Kenyan embassy. These countries are:-
Afghanistan
Armenia
Azerbaijan
Cameroon
Democratic People's Republic of Korea
Eritrea
Iraq
Kosovo
Lebanon
Libya
Mali
Palestine
Senegal
Somalia
Syria
Tajikistan
Can I Apply Online?
Yes you can. Many governments around the world over are moving service delivery online and the Kenyan government has not been left behind. The beauty of online applications make it possible for visitors to Kenyan to get their visas beforehand.
The process is not complicated and has been simplified through an online portal which can be accessed here:- http://www.evisa.go.ke. Visa approvals are done in real time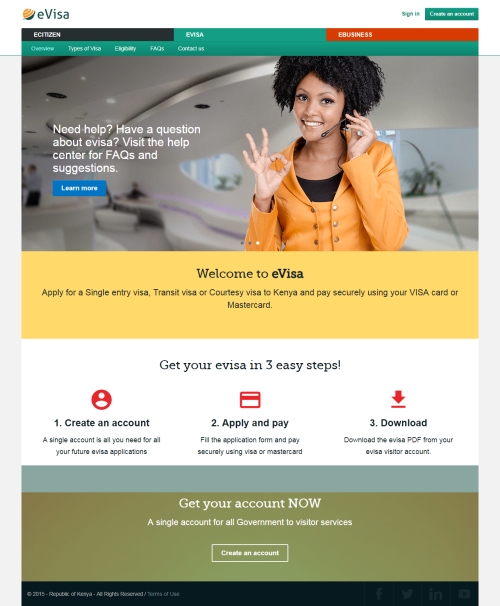 Is A Passport Photo Needed For Online an Visa Application?
Yes! For those interested in applying online, a scanned passport size photo or a photo taken by a mobile phone AND a scanned copy of the passport is required. The online portal is able to resize the passport photo automatically to fit in the photo size requirement.
Do note that the visa fees are NOT refundable should your application be rejected. The online payment of visa fee is in US dollars.
Will Photo/Fingerprints Still Taken On Arrival in Kenya (For Online Applicants)?
Yes they will. This is required to verify or authenticate that the individual who applied for the Visa is the same person at the port of entry. This is a best practice world over now
Compared to the old method of applying manually, online applications help saves your time at the point of entry as eliminates writing of visa stickers and receipt as they wait.
For Transit Travelers, Does One Need To Purchase A Visa?
If you are in transit at JKIA with an onward ticket to another destination such as Kilimanjaro, and need to clear with immigration in order to enter Kenya, you will need a transit visa. The Department has made it easy for you by setting up a desk where you can apply for the transit visa at the port of entry in case of such unexpected circumstances.
How Does One Know If Their Application Has Been Approved or Rejected?
The notifications of visa approvals/rejections will be sent to the email that you used with your application. After completing your application, the system will redirect your details to the nearest Embassy or High Commission (to the place/country of application) and an immediate response will be initiated.
What of Multi Entry Visa Online Applications?
Its not possible to purchase a multi-entry visa online. Multi entry visas can only be issued by immigration offices in Nairobi headquarters. Therefore, an applicant will apply for single entry on the e-visa portal, upon confirmation and arrival in the country then go to Immigration offices to apply for multi-entry visa.
Travel Bookings in Kenya
If you are looking for more information on other travel related services such as hotel bookings, flight bookings, city tours, Masai Mara hot air balloon trips, masai mara safaris, Kenya honeymoon packages etc, we can assist you. Read also on the best time to visit Kenya's Masai Mara and Masai Mara safari packages
Use the form below to contact us and Agnes will get back to you ASAP