The Masai Mara Game Reserve is located 250 kilometers west of the city of Nairobi. If you are looking for an opportunity to catch a glimpse of the Big 5 (lion, buffalo, elephant, rhino, and leopard), or to view the annual wildebeest migration, the Masai Mara is the place to visit!
To get to the Masai Mara, you can either go by air or by road. The 5 to 6-hour drive, however, gets a little tiring. If you want to get there quickly you can opt to take a flight, which will give you a chance to enjoy stunning aerial views, and to experience a game drive shortly after you touch down!
1. Where to Take Flights to Masai Mara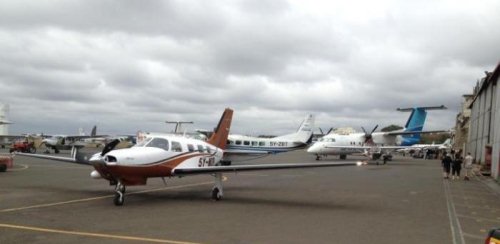 Flights to the Masai Mara depart from Wilson Airport, 6 kilometers south of the Nairobi CBD.
2. How Many Hours to Masai Mara by Flight?
A flight to the Masai Mara from Wilson Airport takes between 40 and 45 minutes.
3. Landing Airstrips in Masai Mara
The main airstrips in Masai Mara are:-
Keekorok
Serena
Ol Kiombo
Angama
Mara North
Olare Orok
Cottars
Kichwa Tembo
Musiara
Siana
Ol Seki
Ngerende
4. Airlines That Fly to Masai Mara
4.1 Air Kenya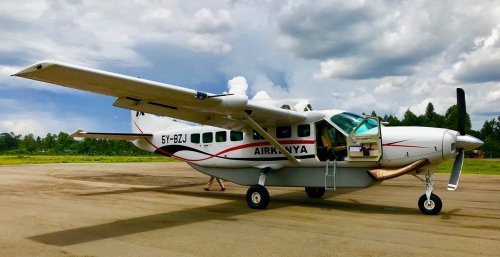 Air Kenya, based in Nairobi at Wilson Airport, is one of Africa's leading aviation companies. Visitors to the Masai Mara who choose to use this airline get to choose from either one of three daily flights.
4.2 Safarilink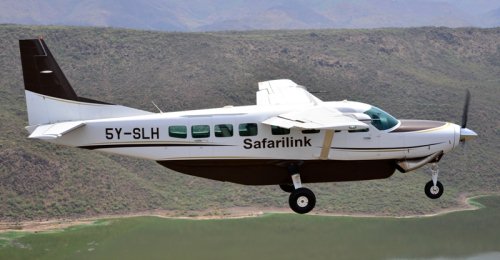 Safarilink, a premier safari airline in Kenya, boasts a network that connects leading safari destinations in the country. Safarilink flies twice daily to the Mara, with stops at either of the 8 major airstrips.
4.3 Fly-SAX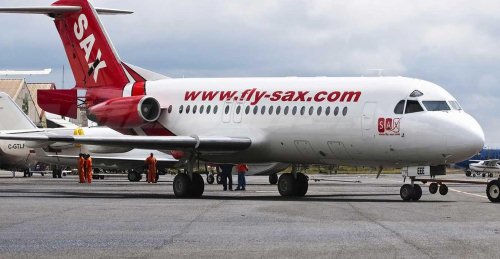 Fly-SAX is a private charter airline that operates out of Wilson Airport. This airline offers reasonably priced flights to the Mara region's most spectacular tourist destinations.
4.4 Silverstone Air

Silverstone Air offers flights that are fairly priced, as well as safe and reliable. This airline, based at Wilson Airport, flies twice daily to the Masai Mara, making stops at Ol Kiombo, Kichwa Tembo, Mara Serena, Keekorok and Musiara airstrips.
4.5 Mombasa Air Safaris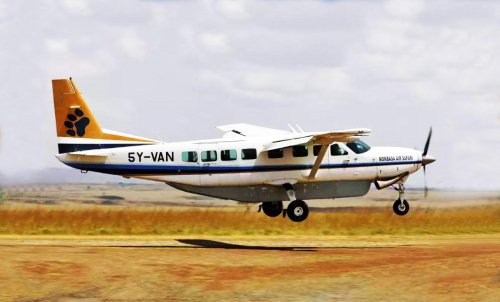 Though Mombasa Air Safaris has its head office in Mombasa, it also operates from the Wilson Airport. This airline makes daily flights from Wilson Airport to the Masai Mara.
5. About Masai Mara Game Reserve
The Masai Mara Game Reserve has an abundance of wildlife, including the Big 5 (elephant, buffalo, leopard, lion, and rhino), as well as the serval cat, cheetah, bat-eared fox, crocodile, baboon, warthog, eland, jackal, etc.
If you happen to go on a Kenya safari during the annual wildebeest migration, you will get to see the spectacular sight of the hundreds of thousands of animals running across the plains.
Below are a few of the activities available for visitors to the Masai Mara.
5.1 Masai Mara Walking Safaris
If you love walking, this is the perfect activity for you. You will get a close-up of all the animals, as well as a trek through the Mara ecosystem.
Walking safaris are conducted by trained Masai guides within the group ranches and conservancies bordering the Mara. See my article on cheap Masai Mara safari packages.
5.2 Masai Mara Hot Air Balloon Rides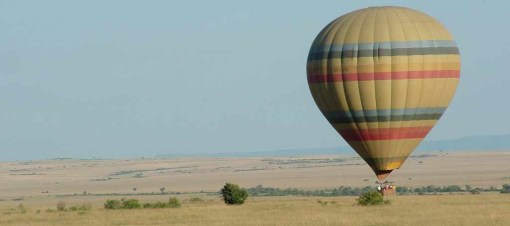 Nothing beats the experience of a one-hour hot air balloon ride over the Mara. The rides take place early in the morning, giving you a chance to savor the beautiful Mara sunrise lighting up the expansive game reserve. Once the balloon ride is done, you get to relax over a sumptuous breakfast. See more on Masai Mara balloon rates here
5.3 Masai Village Visit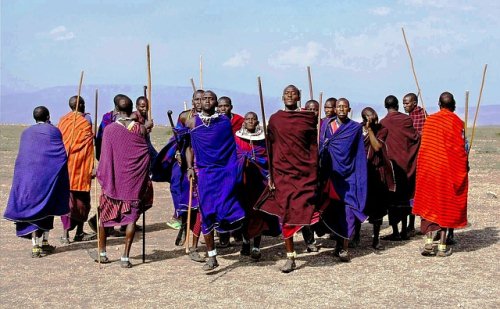 Now that you are in the Masai Mara, why not visit a Masai village and catch a snippet of their lifestyle and culture? Mud thatched houses, brightly colored jewelry and a lifestyle that is largely unchanged filled with song and dance will characterize your Masai village visit.
5.4 Game Drives
Game drives take you right into the wild where you get to see the animals at close range as you drive through their natural habitat. You may be lucky enough to witness a lion hunt in action!
Game drives are often done during the day, using a local driver or a guide familiar with the territory; someone who can give you interesting information on the animals, their daily activities, and their habitat. See more information on Masai Mara safari packages cost guide
6. Nairobi Attractions
As you plan to fly to Masai Mara, below are attractions found in Nairobi that are worth visiting while on business or leisure in Kenya.
6.1 Nairobi National Park
Nairobi National Park's uniqueness lies in the fact that it is in a capital city. Its wide open grass plains dotted with acacia trees lies against a backdrop of busy roads and towering skyscrapers.
In this park, you will get to see a variety of wildlife, including the endangered black rhino, cheetahs, hyena, lions, giraffes, etc., as well as more than 400 different species of birdlife. Nairobi National Park is 10 kilometers south of the City Centre and has an area of 117 square kilometers.
6.2 Giraffe Centre
Visiting the Giraffe Centre will not take up much of your day, as it is only 40 minutes away from the City Centre, in the Karen suburbs. Here you will get to see Rothschild Giraffes of all sizes, feed them, and even get a kiss! You can also sample the 1.5-kilometer nature trail.
6.3 Nairobi National Museum
A visit to Nairobi is not complete without a visit to the National Museum. This museum is located just 10 minutes from the City Centre on Museum Hill.
Here you will have a taste of Kenya's rich heritage, and learn a little about the customs and traditions of the various tribes. You can also visit the Art Gallery, the Botanical Gardens, the exhibitions in the different rooms, and last but not least, the nature trail.
6.4 Masai Market
A visit to Nairobi is never complete without a visit to the Masai Market. The Masai Market is a great source for authentic Masai jewelry, shoes, clothes, and beads. There are also items from other communities, including batiks, carvings, etc. The Masai Market operates at a different location every day, with the exception of Sunday.
6.5 Daphne Sheldrick Trust

The Daphne Sheldrick Trust is an orphanage for abandoned elephant calves and rhinos. It is located at the edge of Nairobi National Park and accessed through the gate facing Banda School. This center is open to the public every day from 11 am to 12 pm.
Summary
The Masai Mara is one of the most interesting places to visit in Kenya, and must-have on your destination list. Most importantly, taking a flight to the Mara is best if you want to make the most of your holiday there!